Start a Summer Set this Week and save $10 EVERY MONTH!
Use Code: SUMMER3TENS  to get $10 off each of the 3 boxes in the Summer Set you Choose
Sizzling Summer Sales Ends in:
What are your Club Member Summer Boxes?
You know, the one where you can get a FREE box with 6-month subscription?
New boxes are in the works for a Bundle of Summer Fun and are available with either picture or chapter books
(Get a FREE box with any new 6 or 12 month subscription, too!)
Available in Picture Book for ages 3-7
and
Chapter Book for ages 8 and up
Picture Book for ages 3-7
The joy of reading delivered right to your door each month! Imagine your child's face lighting up every time a new animal and story lands on your doorstep.
The truth is animals fascinate children, so allowing them to stuff an animal they get to keep each month is a dream come true. And then they get to read a book about their new best friend? Heaven!

Just the spark your child needs to fall in love with reading and continue that excitement all the way into adulthood. Plus, reading with your child every day strengthens that unbreakable bond, making them feel safe, comfortable, and loved.
When you opt-in for the Book and Bear Subscription, you receive each month:
A new plush animal your child will instantly love, all the soft and cuddly fur included

Generous amounts of soft, cloud-like stuffing so little hands can stuff their new best friend

No sewing necessary - simply zip or Velcro when fully stuffed

But before closing up the back, have your child insert the purple Best Friends heart after closing their eyes and making the biggest wish!

A beautiful hardbound picture book about your child's new best friend you can add to your growing library

BONUS: Creative craft adventures, including a coloring book, sticker set, or perhaps even another fun toy
You can always pause or cancel anytime by logging into your own customer portal.
*Plush animals are not recommended for children under three years old due to small parts.
Also Available in Chapter Book for ages 8 and up
Chapter Book for ages 8+
We are especially excited to now have Chapter Books at Book and Bear! Chapter books are for children ages 8 and up.

Or read these wonderful books aloud to your children and have all the fun family discussions that result! Research suggests that children's brains develop significantly while listening to a story and using their imaginations to fill in the visual blanks.
This box includes:
Chapter Book in paperback
Plush Animal Stuffing Kit (Animal, Fluff, Adoption Papers and a Purple "Best Friends" heart)
And a little extra surprise gift!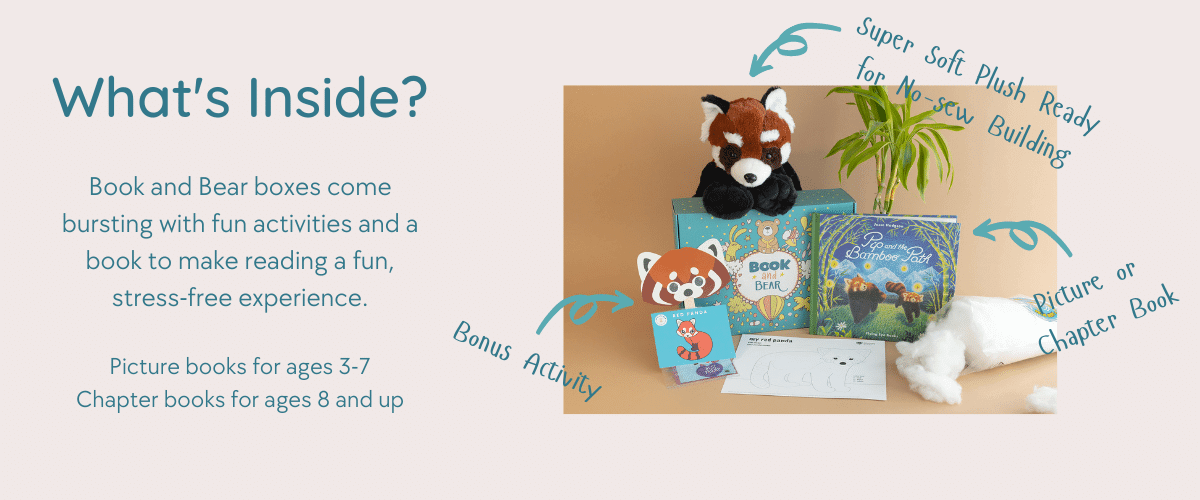 /** * @var $module \Ucraft\Module */ ?>
Teresa P.

My daughter loved everything about this! Loved the craft the book and the stuffed animal and naming her stuffed animal with a purple heart.

Suzie E.

Thank you so much for this awesome subscription, Kaya will be my 3rd grandchild to have her own box! ❤

Roberta G.

My grandson Rowan loved the T-Rex and story book. He has been thrilled with each shipment in this collection. He plans on taking the T-Rex to childcare for show and tell. Very pleased with each product that he has received.

A. Marquez

These boxes are amazing. My son and I both equally enjoy opening them each month and stuffing them. We then act out the book with the stuffy. These are great. ❤️🧸

Carol H.

I purchased Book and Bear for my granddaughter who is 9 years old and she loves it. The animals are so cute and soft and we are enjoying the chapter books. It's a great surprise which comes in the mail each month. It truly make us both happy to share this experience together. It's all about making good memories with a child I adore. Thank you Book and Bear.